Bad Tuning of Love is the 7th Episode of the Working'!! anime. It is first aired on November 12, 2011.
Inami classmates warns her about a kidnapper at the back of supermarket path, but she ignores it. Inami meets a boy calling himself Kirio Yamada, who she believes might be Aoi's brother. As he is able to withstand her punches, Inami ends up conversing well with Kirio, who starts developing feelings for her.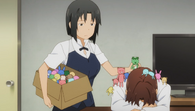 The kidnapper rumors goes through the Wagnaria Restaurant. After hearing this rumor from Popura, Sōta goes to that path. But, when Sōta arrives, he becomes downhearted when he sees the two getting along. He begins acting strangely the next day and ends up bashing his head against the wall, leading him to think he might have become a masochist. Actually, Souma already knew what's the problem so instead of helping, he's just laughing all the time. Finally, Sōta told Inami that he's not a masochist.
New character
Edit
Support character
Edit
Later, Kozue manages to get the waitresses to dress up in animal cosplay. Actually, those are custom for children. At the season 2 opening video, this already been "revealed".